2021 Mentoring – Conferences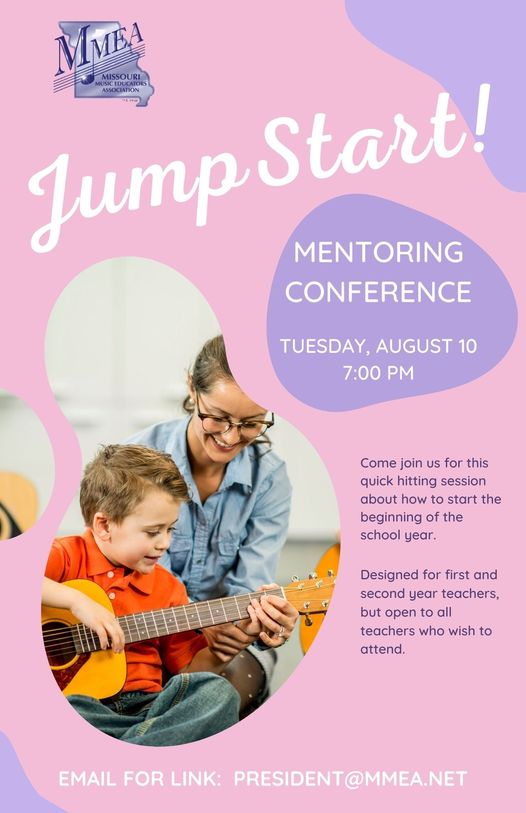 2021
MMEA Mentoring jumpstart conference
(Online – Zoom)
MMEA is providing a valuable resource to help beginning music educators across Missouri.  The Missouri Music Educators Association will present a "Jumpstart!"Mentoring Clinic on Tuesday, August 10 at 7:00 pm via Zoom. This clinic will focus on the start of school and what music educators can do before school begins to set the stage for success. This clinic is provided at no charge.           
REGISTER BELOW
---
MMEA Mentoring conference
(In Person – Tan-Tar-A Conference Center)
MMEA will again sponsor a two day on site and in person clinic at Tan-Tar-A Conference Center on Sunday, September 19, and Monday, September 20, 2021.  The conference is FREE OF CHARGE WITH MEALS PROVIDED BY MMEA. There is no registration fee. The only expense to new teachers will be the cost of the hotel room at convention rates.  
Workshop Goals and Topics for the September 19 & 20 Mentoring Clinic will include:
1.     Best practices for rehearsal/classroom management, including discipline problems and solutions
2.     Organization and administration of the music education classroom
3.     Building and maintaining a successful K–12 Music Program
4.     School budgeting and business management for the music educator
5.     Effective communication with students, administrators, parents and district patrons
6.     Diversity training for today's classroom.
7.     Networking with successful music educators to develop resources for ideas, techniques and literature
8.     Missouri State High School Activities Association Rules and Guidelines for Music Activities.  This session will be led by Davine Davis, Assistant Executive Director of MSHSAA.
9.     Returning Post Covid: Recovering skills and building programs in September 2021 and beyond.
REGISTER BELOW
---
2021 MMEA Mentoring Conference: Registration Form
---
Don't Miss It!
  2021 Mentoring Conference  
(In Person)
September 19-20, 2021
Tan-Tar-A Conference Center