MMEA Affiliates: Missouri Choral Directors Association (MCDA)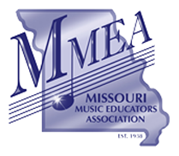 MMEA Affiliates:  MCDA
MMEA Affiliate Representatives are elected by their respective association memberships and serve two-year terms.  
The MMEA Affiliate Representatives are responsible for the following duties, each year during their two-year term:
Position Summary:  The  Missouri Choral Directors Association (MCDA) Representative shall serve as a liaison between the MCDA and the Missouri Music Educators Association.
Position Responsibilities:
Secure and coordinate one (1) clinic session for the Annual MMEA In-Service Workshop/Conference.
Preside over the All-State Choir "Meet the Conductor" session at the Annual MMEA In-Service Workshop/Conference.
Attend MMEA Board of Director Meetings (April, August)
             *NOTE:  MMEA Advisory Council Members serve in an advisory capacity and act as non-
           voting members on the MMEA Board of  Directors.
Submit four articles for the Missouri School Music Magazine (February, April, August, November)
 Resources
Job Description:  MMEA Affiliate Representative
MMEA Leadership Meeting Calendar (2016-2018)
MMEA Board of Directors/Advisory Council Time Line
MMEA Conference Planning – Affiliate Representative