2017 MMEA Conference Event App – "Expand Your Visibility" Banner Ad Options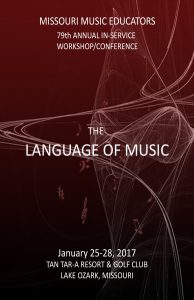 BANNER AD INFORMATION
2017 MMEA Conference Exhibitors
EXPAND YOUR VISIBILITY!
*2017 MMEA CONFERENCE EVENT APP ADVERTISEMENT OPTIONS*
"Expand your Visibility" beyond your standard exhibitor profile by adding a "Banner Ad" that will be displayed randomly, with other banner ads, throughout the many pages of the Conference App.
Exhibitors may secure up to five (5) entries of their ad at the following pricing:
     $30  – One Entry
     $50 – Two Entries
     $75 – Three Entries
     $100 – Four Entries
     $125 – Five Entries
PREVIEW THE 2017 MMEA CONFERENCE EVENT APP HERE
PAYMENT INFORMATION
An INVOICE will be sent (via email) to the contact person listed on this form.
Payment instructions will be included on the invoice.
 
Thank you for your continued support of Music in Missouri!
Please complete the information form below to secure your option for the 2017 MMEA Conference App.